Care and Support Planning
Care and Support Planning (CSP) is an approach which can be applied across the whole spectrum of ageing and frailty with the aim of improving health and wellbeing and optimising independence at any stage.
The core aim is to involve the person (and carers) in planning the future, by wrapping the traditional components of clinical care around what is important to them in living their life.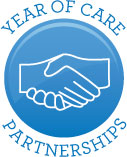 (c) 2018 Year of Care
CSP consists of a systematic series of steps to bring together all the issues the person may live with in a more productive consultation (conversation) with a trained professional enabled by preparation. The person receives personally relevant information, explanations and prompts (with support if necessary) with time to reflect on the key issues for them ahead of the conversation.  The professional collects and collates the 'technical' information from the clinical and medication record, from others involved with the person and organises assessments including self-assessments, so these can be included and debated as part of developing joint plans with the person during the conversation itself.
For more information to aid local delivery see what works, resource links, benefits, evidence, local stories and case studies as well as impact/measures see the Frailty Toolkit page 22.